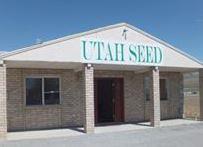 Orson Boyce has worked in agriculture most of his life. Since 2000 Orson has been the Managing Member of Utah Seed, LLC. His primary responsibility has been to consult with land-owners and to recommend various types of seed that will give the desired result on their farm or landscaping or reclamation project. In this effort, Utah Seed buys and sells the seeds needed by our customers. Orson also works with foragers to coordinate their work with land-owners who have wildland seeds to be harvested. From 1986 to 2000 Orson worked for several seed companies in the Intermountain Region including Wheatland West Seed. From 1980 to 1986 Orson worked for seed companies in the Pacific Northwest. From 1956 to 1980 he lived and worked on a family farm in eastern Washington, and also attended Washington State University graduating with a B.S. in Agronomy.
Shane Getz grew up in the farming industry. His family grew and harvested wheat, alfalfa and various grass seeds. After graduating high school Shane attended Utah State University. Shane went to work for a seed company and continued to grow grasses for reclamation projects on the family farm. After 26 years of learning the seed business Shane came to work for Utah Seed, LLC in 2009, bringing us his expertise in the grass seed industry. Shane and his wife Connie have 4 children and they make their home in Tremonton. When he's not working, Shane likes to spend time on a horse packing in the high country of Utah and Wyoming.
Please give us the opportunity to deliver to you the finest quality seed at a fair price and unbeatable service and support.